Home » Relationships
Teen reunites with birth mum then dies suspiciously
Source: nzherald.co.nz | August 26, 2017 | 125 Views
By James Law
It started with a fire.
On the afternoon of July 18, Missouri mother Rebecca Ruud, 39, called the local fire department to ask for their help to extinguish a blaze on her secluded 32-hectare farm in the south of the midwestern US state.
When firefighters arrived at the property about 40 minutes later, Ms Ruud directed them away from the house and up a hill towards a 2000sq m fire.
The firefighter gave Ms Ruud medical attention to her burnt left arm, but she would not allow him to check on her daughter Savannah, 16, who she said was also hurt in the fire
.
According to a police statement, Ms Ruud told the firefighter that Savannah was fine and was in a caravan on the property taking a shower.
The farm was off the grid and the only way to pump water for a shower was via the gas-powered generator near the caravan.
Police later noted that the generator was not running when Savannah was said to have been taking a shower.
When firefighters returned after putting out the fire, Ms Ruud refused to let them anywhere near the house or Savannah.
She even refused their request for a drink of cold water, news.com.au reported.
Two and a half weeks later, the burnt remains of Savannah Leckie would be found on the same property under a pile of wood - and Rebecca Ruud would end up accused of her murder.
What transpired in between is a shocking tale of alleged abuse and deception.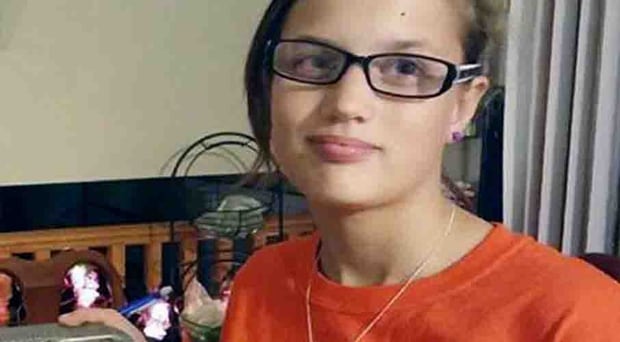 Savannah Leckie's remains were found in a burn pit on a remote property in Missouri months after she moved from Minnesota, where she was raised.
THE REUNION
Savannah Leckie - who had been diagnosed with Asperger's syndrome, attention deficit hyperactivity disorder and depression - spent most of her young life in the care of another family in Minnesota.
Ms Ruud gave Savannah up for adoption at birth to David Leckie and Tamile Leckie-Montague.
After her adoptive parents divorced, Savannah made the choice to reunite with her birth mother and moved to Ms Ruud's farm late last year.
But it didn't take long for the arrangement to go south.
Ms Ruud told Ms Leckie-Montague via text message in June that her daughter was not adapting to life on the farm and that "it's to the point that either I need more help to care for her, or I can do nothing with her".
Savannah was taking up so much of Ms Ruud's time that she feared she would lose the farm.
Rebecca Ruud was reunited with her daughter Savannah 16 years after she gave her up for adoption. Photo / Facebook.
SAVANNAH GOES MISSING
Two days after the fire, Ms Ruud called the local police to report that Savannah had run away.
"Savannah is blaming herself for the fire. I got burnt. I think that is why she ran away," Ms Ruud told police.
"She took her pillow and blanket and her favourite colouring bag. We can't find her anywhere."
Ms Ruud and her boyfriend Robert Peat Jr, who lived with her on the farm and was also a firefighter, told police the last time they had seen her was at 11pm on July 19, the night after the fire.
Mr Peat and Ms Ruud later told police they lit "beacon fires" for Savannah on the two days after her disappearance on the hilltop where the first fire burned.
Ms Ruud told her relatives that she injured her arm while saving Savannah from the fire, but she told others she burnt it while retrieving a chainsaw from the flames.
UNDER STRICT CONTROL
As police began to interview Ms Ruud about her daughter's disappearance, a disturbing picture emerged of the control she had over Savannah.
The 16-year-old lived in a poorly ventilated caravan separate to the main house. It had an airconditioner, but it did not work, which would have made the hot summer months difficult to bear.
She was homeschooled and had "almost no social contacts", according to a court statement.
During police interviews, Ms Ruud admitted to inflicting cruel forms of punishment on her daughter.
She told them that she had smashed Savannah's mobile phone and limited her use of Facebook as a form of control.
She also admitted to punishing her by turning a water hose on her, making her roll around in a pig pen or immersing her in a muddy pond.
Savannah would harm herself by cutting her arms and Ms Ruud said she would punish her for this by pouring alcohol and salt on the wound twice a day.
A DISCOVERY
Police turned up to the farm on the morning of August 4 with sniffer dogs.
Ms Ruud refused to allow them to search the property, so they executed a search warrant.
The dogs led officers to the top of the same hill where the fire had burnt on July 18 and they found a pile of firewood. Underneath the pile, police discovered light-coloured ashes.
Upon closer inspection, they found fragments of bone consistent with human rib bones, vertebrae, teeth, fingers and toes.
They also found a button with ducks imprinted on it.
While police searched the property, Ms Ruud and Mr Peat travelled two hours to the city of Summersville, Missouri, to get married.
Forensic experts later concluded via dental records that the remains belonged to Savannah and suggested that her body had been burned multiple times.
According to court documents, further searches of the property uncovered a meat grinder, a knife and 26 bottles of lye, which can be used to break down of bodily tissue.
Robert Peat Jr and Rebecca Ruud. Photo / Facebook.
THE ALLEGATION
Ozark County police concluded that Ms Ruud was responsible for Savannah's death due to the inconsistencies in her story and her efforts to conceal evidence and mislead investigators.
"[Considering] Ms Ruud's statement regarding Savannah being burned and Ms Ruud's extreme forms of punishing and abuse she inflicted upon Savannah, I believe Ms Ruud deliberately and methodically caused the death of Savannah Leckie and then attempted to conceal it by destroying evidence and her remains by fire," Deputy Curtis Dobbs said in a statement to court.
Fearing that Ms Ruud was about to flee the state, police arrested her on Monday as she attempted to board a bus to Kansas City.
She has been charged with murder, abuse of a child resulting in death, tampering with physical evidence and abandoning a corpse.
Ozark County sheriff Darrin Reed said more arrests were possible as police continued their investigation.
Mr Peat, who had a bus ticket to Tennessee, has not been charged.
"Our family is in deep grief and is mourning Savannah as her remains were identified yesterday," Ms Leckie-Montague said in a statement on Tuesday.
"This is not the outcome that we were hoping and praying for."
| January 07, 2018
Are you morally obligated to divulge your friends affair, or is that...
| January 03, 2018
The end of a relationship can sometimes feel like the end of the world. How do you pick yourself up...
| December 04, 2017
Every relationship always has different phases it goes through and yet most people tend to drop...
| December 04, 2017
Every guy should know to win his woman's heart over and over again with sweet words and give...
| November 24, 2017
Nigerian socialite and 'psychologist' Joro Olumofin is back with a continuing episode...
| November 20, 2017
We Fall In Love With Potential I cannot possibly be the only one who has made this mistake....
| November 15, 2017
Dating in the 21st century is a flurry of delirious anticipation. There's the potential to meet...
| November 15, 2017
The month of December is a time to love and share. This is more of the case with...
| November 15, 2017
One of the questions most single ladies ask is how to realize when a guy is in love with you. As...
| November 08, 2017
Guys love girls. Some of them, they adore. But while you might be under the impression that guys...