Home » Role Models
6 Ghanaian Female Heroines Who Deserve More Appreciation Than They Are Getting Now
Source: Tongagh.com | March 21, 2017 | 662 Views
They say this is a man's world, but how would the world be complete without a touch of a woman?. Against a world dominated by men, few women have the courage to voice out their feeling
The situation is the same in Ghana too. Women have been backed to the world they can't even express their feelings without being called derogatory names by men.
Against all these odds, Some bold, fearless women refuse to back down and day in day out ensures we take the views of women into consideration in all we do. Such women should be celebrated for their fearlessness.
1. NANA KONADU AGYEMANG RAWLINGS
Nana Konadu Agyemang Rawlings the wife of former president and the longest serving leader in Ghana Jerry John Rawlings is one spectacular heroine that should be acknowledged for her effort in strengthening the role of women in modern democratic Ghana.
"Iron Lady" as she is affectionately called for her tough stance on issues. Although recognized as a former first lady,she deserves to be acknowledge for her role in fighting for woman as far as the 1970s.
She has been beside her husband during the military rule days and went further to found "31st December Women Movement" an association dedicated to fight for the right of women in Ghana.
In recent times, she has been more active in speaking out against societal evils like corruption. When she had a fallout with the political party she founded with her husband, she went ahead to establish her own party to still fight. Such a woman deserves all the respect and love she can get from all, especially women.
2. LEILA DJANSI
Another Heroine that is being under appreciated for her efforts is Leila Djansi. Leila is a filmmaker, writer and a producer with several international recognitions. Despite being in the creative industry where people think its suicide to meddle on matters of government, This brave lady speaks up a lot.
She just can't keep quiet when she sees societal ills. She campaigned massively for the immediate past NDC government during the 2012 elections. But that didn't deter her from speaking up against any action she deemed wrong by the party.
Sometimes her bravery put some people off. she is sometimes regarded as as arrogant for her blunt way of speaking about issues. But she is always right and have the good of the country at heart. She deserves more!
3. AKUA BLAKOFE
For sometime now in Ghana, some people have the notion that beauty is synonymous with being fair, we need to appreciate people who have waged war on skin bleaching. And that is where Akua Blakofe needs to be celebrated.
This black skin beauty is a broadcaster and she has made it her concern to campaign massively against skin bleaching whiles advocating for the use of natural hair.
We believes she is doing a marvelous work and such deserves more praises than she is getting now. She is a true heroine!
4. LYDIA FORSON
She has been called a controversial, a prostitute, feminist and whole lot of other names because she refuse to keep mute on issues going on around her
In a world dominated by men, few outspoken women are despised by Lydia refused to be bothered about such name callings. She knows its her right to voice out about anything that concerns.
She is now the voice for a lot of women who are always afraid to speak for fear of being tagged. Lydia has picked on pastors, counselors, lecturers, politicians, journalist. She is a true heroine and should be appreciated more.
5. URSULA OWUSU EKUFUL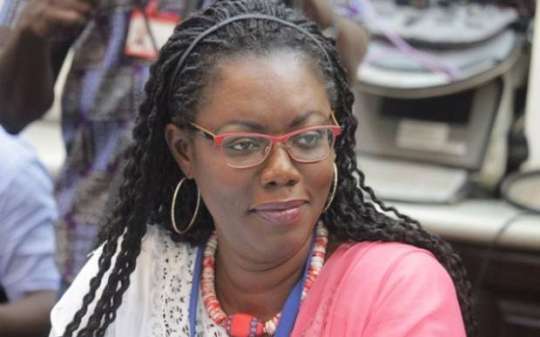 Ursula Owusu Ekuful the Communication Minister and Member of Parliament for Ablekuma West Constituency who also double as a lawyer, gender activist, human right advocate deserves more appreciations than she is getting in her current state.
This is a woman who against all odds stands her grounds and battle it out with any male who tries to take advantage of the opposite s3x. Her human right activities is undoubtedly excellent especially when she is advocating for women and children. Mrs Ursula Owusu is a true definition of a heroine
6. YVONNE NELSON
The infamous Yvonne Nelson!. The lady who has launched massive campaign against Glaucoma. the Very same lady who refuse to sit down and watch things deteriorate in this country without voicing out is being under appreciated for her efforts.
The actress cum producer single handed organized a demonstration against the immediate past government for their inability to curb the erratic electricity cuts that bedeviled the nation for years. She called it the "Dumsor Vigil".
Admitted she has her faults just like you and i but we can all agree her positives heavily out way the faults you may like find in her. She is a HEROINE!
Credit: Ghpage.com
express.co.uk | August 29, 2017
THE eagerly anticipated second series of Victoria starts tomorrow. We talk to its star, Jenna...
businesstimes.com.sg | August 28, 2017
Singapore WHEN a sizeable number of complex scientific instruments in the world are made in...
businesstimes.com.sg | August 28, 2017
Singapore US-BASED life science company Thermo Fisher Scientific, which produces life science...
khaleejtimes.com | August 28, 2017
Dubbed 'Qudwa', the Arabic for 'role...
nation.com.pk | August 26, 2017
NEW YORK-Pop superstar Taylor Swift is back with a new dance-club beat - and a stone-cold warning...
nation.com.pk | August 26, 2017
LOS ANGELES-Miranda Kerr's ''favourite thing'' to drink every morning...
tongagh.com | August 25, 2017
Tragic R&B star Aaliyah is to be honoured with a new MAC cosmetics line following a...
tongagh.com | August 25, 2017
Judi Dench has opened up about her relationship with conservationist David Mills....
tongagh.com | August 25, 2017
Taylor Swift has released the first single from her sixth studio album, Reputation. The...
hellomagazine.com | August 25, 2017
Singer Gwen Stefani felt compelled to use her eye for design to create glasses for kids...