Home » Weddings
Son of Richest Woman in Africa Marries
Source: bellanaija.com | June 11, 2017 | 211 Views
After a proposal in Greece last year followed by their traditional engagement in Lagos, Folarin Alakija married his love Nazanin Jafarian yesterday at the historic Blenheim Palace in Oxfordshire.
The groom Flo, a widower father-of-one, is an entrepreneur, investor and cinematographer while the bride Naza is a graduate of Bioengineering and Biomedical Engineering from the University of Manchester. She also has a graduate Diploma in Law and has worked as a model and marketing consultant.
Richest woman in Africa, Folorunsho Alakija and her husband Modupe were overjoyed as they celebrated with their son.
As expected, the wedding was a stunner!
Rockstar event designer Jeff Leatham transformed the venues for the ceremony and reception. Guests enjoyed a surprise performance by star musician Robin Thicke as well as a magnificent fireworks display. The grand cake was by Elizabeth's Cake Emporium. The event was planned by Sade Awe of The Bridal Circle.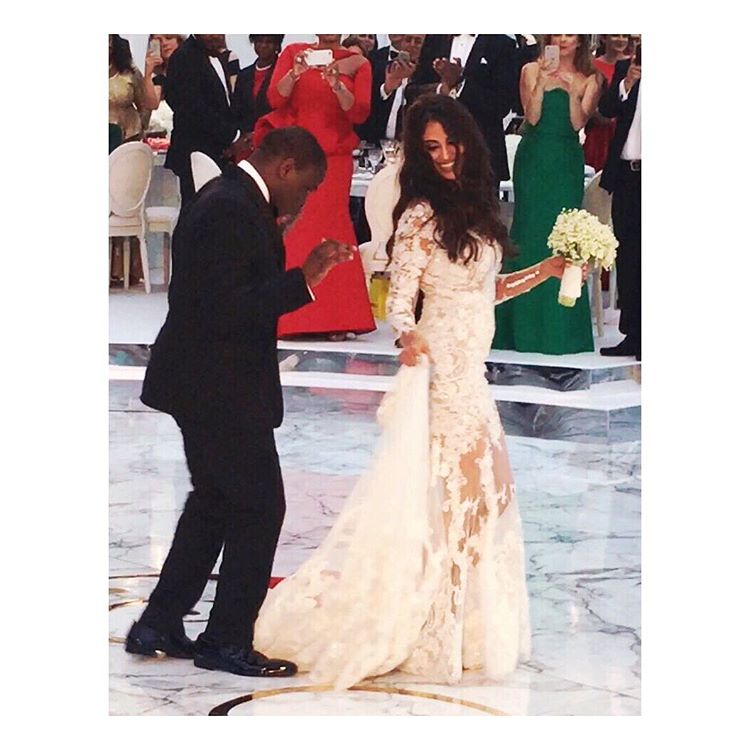 adomonline.com | August 29, 2017
In June, photos from 67-year-old Lucinda Myers and 70-year-old Murphy Wilson's engagement...
pulse.com.gh | August 29, 2017
We at pulse.com.gh love Ghanaian weddings. So when we saw this union between a Ghanaian woman and a...
ghanaweb.com | August 28, 2017
Ghanaian Gospel musician, Mabel Aggrey has revealed, her music is to inspire and bring hope to the...
tongagh.com | August 28, 2017
Nollywood actor, Daniel K. Daniel and his heartthrob, Teena wedded traditionally recently in Nnewi,...
pulse.com.gh | August 28, 2017
Mercy Johnson Okojie and hubby, Prince Okojie, are celebrating their sixth wedding...
nation.com.pk | August 26, 2017
LOS ANGELES-Kate Winslet has revealed that she and Leonardo Dicaprio still quote...
mirror.co.uk | August 26, 2017
A British couple claim their dream Mediterranean wedding was ruined by their...
tongagh.com | August 25, 2017
Jenna Coleman and Tom Hughes have been praised for bringing their chemistry and...
tongagh.com | August 25, 2017
Before his trip to Africa with girlfriend Meghan Markle, Prince Harry visited StreetGames' Fit...
tongagh.com | August 24, 2017
Kris Jenner has a game plan for everything, including getting her daughters out of ill-advised...