Home » Celebrities
The Bachelorette's Emily Maynard Johnson Is Pregnant With Baby No. 4
Source: eonline.com | August 29, 2017 | 140 Views
Emily Maynard's happily ever after continues.
The former Bachelorette is pregnant with her fourth child, according to People.
Followers of the reality star speculated that the family was growing this weekend when Emily's husband documented her family outing in Charlotte, North Carolina.
"@emilygmaynard," Tyler Johnson shared on Instagram with video of his wife who appeared to be hiding a bump in a blue and white checkered tunic.
Fans of the I Said Yes author know that Emily shares two children with Tyler. In addition she has a 12-year-old with her late fiancé.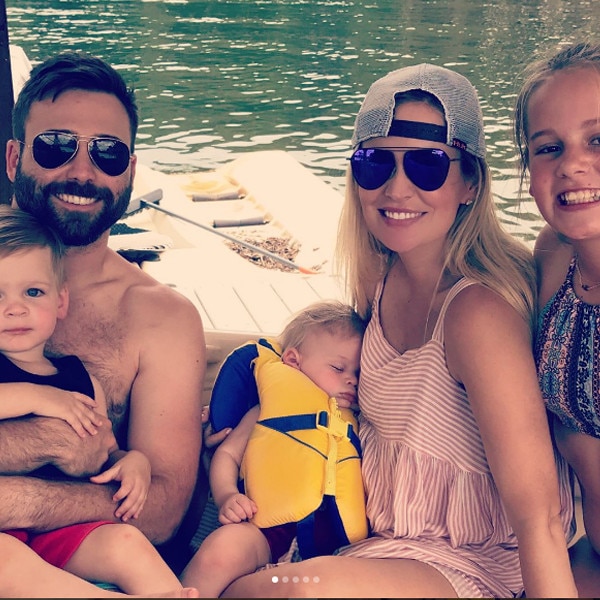 "It is crazy at our house all the time," Emily previously shared with Good Morning America. "But it's a lot of fun."
She added, "I just think God knew I could not handle a lot so he gave me three super easy babies and three super easy kids."
For those who may not be proud members of Bachelor Nation, Emily first appeared on The Bachelor where Brad Womack picked her on the season finale.
When they decided to call it quits on their romance, Emily made the decision to give love another chance by appearing on season 8 of The Bachelorette where Jef Holm received the final rose.
As Emily and her family eagerly wait for the upcoming arrival, the proud mom is simply enjoying life with those closest to her. One look at the reality star's Instagram and you'll instantly discover that family time is the best time for Emily.
Congratulations!
GhanaWeb | February 13, 2018
The Shop Accra on 9th of February, played host to the unveiling of a never seen before visual of...
GhanaWeb | February 13, 2018
Reggae and dancehall lovers will have an opportunity to revel all night at the "Mecca"...
GH Base | February 13, 2018
Regardless of the chart topping songs by Maradona Yeboah Adjei popularly known as Guru, he...
GH Base | February 13, 2018
Music icon, Wizkd is one of the wealthiest and most commercially successful artistes from Nigeria...
GH Base | February 13, 2018
It's becoming obvious that the once formidable group 4×4 is gradually crawling into a...
GhanaWeb | October 31, 2017
Actress and Movie Producer, Yvonne Nelson has given birth to her first child. Nelson gave birth...
tongagh.com | September 14, 2017
Michael Owusu Addo, known by his stage name as Sarkodie, has disclosed that he's still the...
mirror.co.uk | August 30, 2017
Alexandra Burke has tragically announced that her mother Melissa Bell has died at the age of...
express.co.uk | August 29, 2017
Which beauty products do you swear by? Every morning I use...
express.co.uk | August 29, 2017
GIGI HADID has been one of the most talked about women in the modelling world, regularly pictured...