Home » Fashion
Get Ready for Grown-Up Glamour at NZ Fashion Week
Source: nzherald.co.nz | August 26, 2017 | 125 Views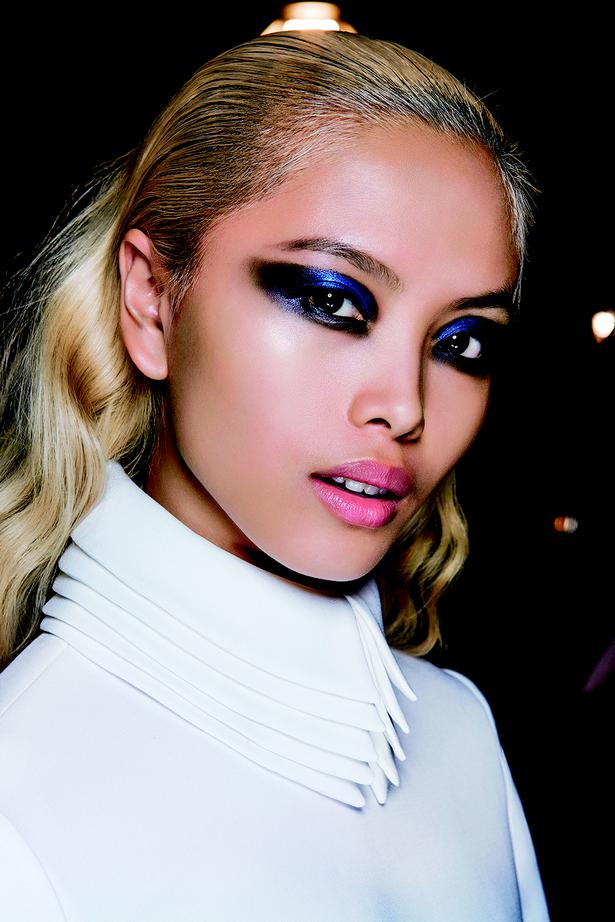 Models wore metallic eye shades at the Brandon Maxwell show at New York Fashion Week this year. Picture / Supplied
"I'm really excited about colour," says Kiekie Stanners, the makeup artist responsible for the beauty looks at some of New Zealand Fashion Week's biggest shows. Throw in metallics for good measure and we're bound to be dazzled by some high-voltage beauty looks.
"We've seen so many seasons of "no makeup" makeup, perfected grooming, or delicate touches," says Kiekie, M.A.C's senior national artist. But the less minimalist, more ornamental direction in everything from fashion, fabrics and accessories to home decor is emerging in makeup also.
This season expect a more constructed approach, with makeup visibly applied across the features. The old adage of "lips or eyes" is being swept aside as artists adorn both and add in colour flushes or defined sheen on cheeks too.
"More elements of the face are done in the same perfectly structured makeup," is how Kiekie, explains it. "You don't see the makeup before the woman." That's because colour choices, while bold, are most often complementary or monochromatic. Makeup is not plopped on with contrasting red and blue 1980s-style abandon, but is calibrated to suit individual complexions. "The makeup sits beautifully on the face," she says.
That nod to the individualisation of beauty was beautifully illustrated at the Brandon Maxwell show at New York Fashion Week this year, where Tom Pecheux asked the models which of a number of metallic eye shades they felt most comfortable wearing. Deep blue was a standout.
Locally, where designers and makeup directors have spent the last few weeks planning their own approaches, Kiekie says: "I celebrate that they do have very strong ideas themselves".
This means our winter show season looking towards 2018 — and coming seven months before Europe's equivalent round of shows — sees us in a chicken and egg situation.
Kiekie believes New Zealand Fashion Week beauty looks can and do surprise, by not following, but by being fashion-forward and independent.
| January 15, 2018
Tina Abeysekara, 32, is a Sydney-based blogger known for her thrifty fashion The 32-year-old...
Dailymail.co.uk | January 15, 2018
Her family has been famously chastised for wearing real fur garments in the...
Dailymail.co.uk | January 12, 2018
They will celebrate their fifth wedding anniversary this year and Kate Bosworth and Michael Polish...
dailymail.co.uk | January 10, 2018
Layer up like Meghan in a coat by Smythe Meghan Markle and Prince Harry arrived today...
daily mail.co uk | January 10, 2018
Kim Kardashian makes a ton of money promoting products to her tens of millions of social media...
BBC | January 05, 2018
From elaborate embellishments to short shorts, Bel Jabobs takes a look at the high fashion likely...
| November 16, 2017
Ghanacrusader.com brings you some powerful advice on what to do in order to keep your marriage...
| November 16, 2017
For 25-year-old Pearl Nyarko-Mensah, being crowned Miss Malaika 2017 is certainly a dream come true...
| November 15, 2017
Big Brother star Pokello Nare showed off her amazing figure in a recent shot that suggests she may...
| November 08, 2017
The idea of marriage, especially in Ghana, is highly a sacrilegious one as most people find it to...