Home » Fashion
A Round Up From The RCA Fashion Show
Source: vogue.com | June 11, 2017 | 139 Views
Marking the start of London Fashion Week Men's and the UK General Election, it's safe to say that it was a pretty poignant night for the Royal College of Art's annual fashion show. 48 talented MA students presented their collections through performance, installations, music and choreography to an audience of esteemed fashion faces. Earmarked as yearly showcase for fresh talent, here are some the standout moments and the names to note.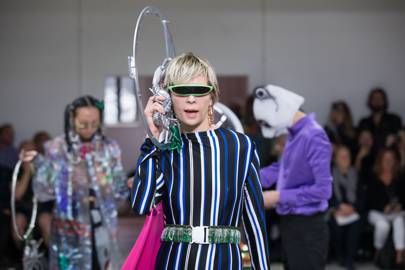 Disco Fever
Walking into the industrial-like East London studio, audience members were met by bedazzling giant disco balls, creating an almost glitter-like environment for the show. Flashes of sparkling light made for a startling and electrifying setting; an apt atmosphere to mirror the exceptional creative talents of the designer collections that were on show.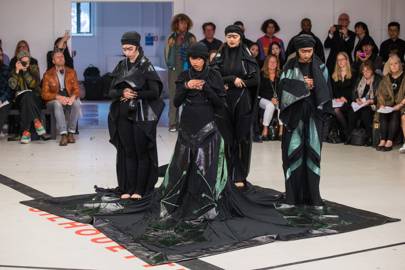 Spiritual Awakening
First up was womenswear designer Zahra Sooty Hosseini, whose four-part gown design was showcased as audience members trickled it. Worn by a model sat with her head bowed down in a prayer-like position, the show began as three fellow models entered the runway, each helping to unclip the gown's billowing skirt so that it spread across the catwalk resembling a prayer-mat before all four women began to utter a series of prayers in sync. It was a powerful introduction to the innovative and politically motivated collections which followed.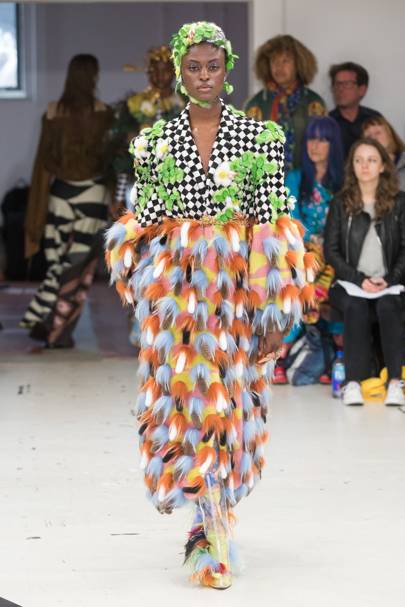 Feathered Fancies
An invasion of colour, maximalist textures and a Miu Miu-like abundance of feathers brightened the catwalk as Rosie Danford-Phillip's collection took to the stage. Influenced by "an intense desire to infect sterile white spaces with nature", Danford-Phillips's uplifting designs added an injection of vibrancy to the roster of talent on display.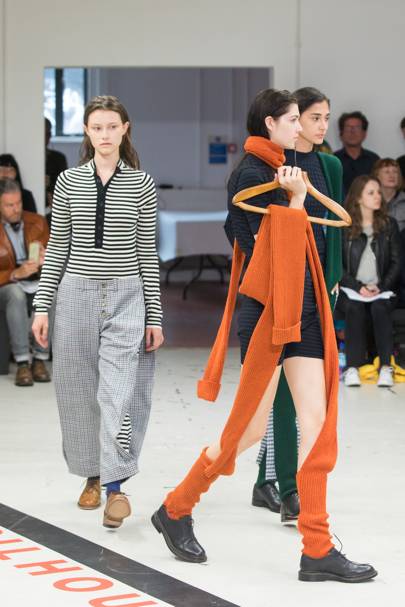 Redefining The Domestic Goddess
"Tick, tick, boom" were the words repeated from what sounded like a Forties radio recording as Pippa Harries' conceptual collection came down the catwalk. Her designs cleverly reflected the intrinsic domesticities of everyday life through a series of sartorial motifs, with one model dragging a tired-looking iron down the catwalk whilst another repeatedly blew her nose in a scrunched up hankerchief. "The dynamics to human interaction and how this translates in personality is prominent in my practice. I utilise this interest to investigate the relationship between wearer and their clothing habits, creating the archetypes of the ordinary routine. This allows me to appreciate tradition and classic line, whilst celebrating the ritual of routine," she explained.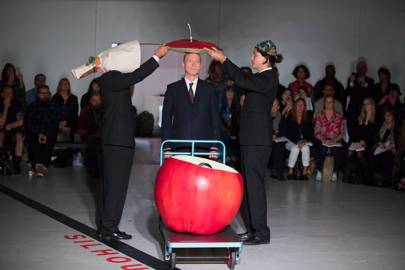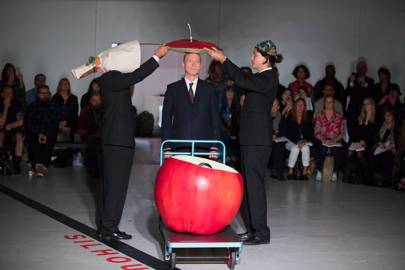 Mad Hatters And Their Giant Apple
It was all Alice in East London Wonderland for millinery designer Jing Tang , who showcased her elaborate hat designs on three male models, wheeling out a giant apple which they subsequently opened to reveal a rotten interior. Citing Issey Miyake and John Cage as influences, Tang's unique exhibition concluded the show's first half with eccentric excellence. Once the lid had been lifted off the remarkably shiny apple, out came a stream of waiters offering flutes of champagne and pork sliders to the audience. A very classy combo indeed.
GhanaWeb | October 19, 2017
Ahwenepa is an African fashion hub that connects fashion designers to their customers. They have...
GhanaWeb | October 19, 2017
Ahwenepa is an African fashion hub that connects fashion designers to their customers. They have...
GhanaWeb | October 18, 2017
YOLO actress, Fella Makafui has released yet another stunning photos of herself to the...
GhanaWeb | October 17, 2017
Award-winning Ghallywood actress, Juliet Ibrahim has warmed hearts on social media with her new...
GhanaWeb | October 17, 2017
The Glitz Africa Fashion week was truly an event to celebrate fashion and it gave an opportunity...
GhanaWeb | October 17, 2017
Miss Ghana 2017 Ambassador, Afua Asieduwaa Akrofi, who was also the 1st runner-up at the Miss Ghana...
GhanaWeb | October 09, 2017
The 2017 edition of the Accra Fashion Week celebrations saw lovers of fashion served better than...
Dailymail.co.uk | September 22, 2017
It's always one of the most stand-out shows at fashion week and this season's Moschino...
Dailymail.co.uk | September 22, 2017
Ever the picture of sophistication, Amal Clooney arrived at The Venice Film Festival recently...
telegraph.co.uk | September 11, 2017
Fenty x Puma SS18. CREDIT: GETTY Charlie Gowans-Eglinton, acting...